RCX 21 – Collaborations for Resilience
Resilient.PH, in collaboration with the Asia Pacific College (APC), IBM SkilsBuild, Arise Philipines, the Department of Science and Technology (DOST) kickstarted the new year with the pilot run of the Resilience Co-Creation Expo 2021 (RCX 21) last January 4 with the theme "Real Challenges. Real Solutions."
RCX 21, envisioned to be a prototype of a much bigger execution in the coming years, brought together the latest batch of college student participants to the APC IBM SkillsBuild Innovation Camp as solutions provider and ten (10) organizations as potential clients.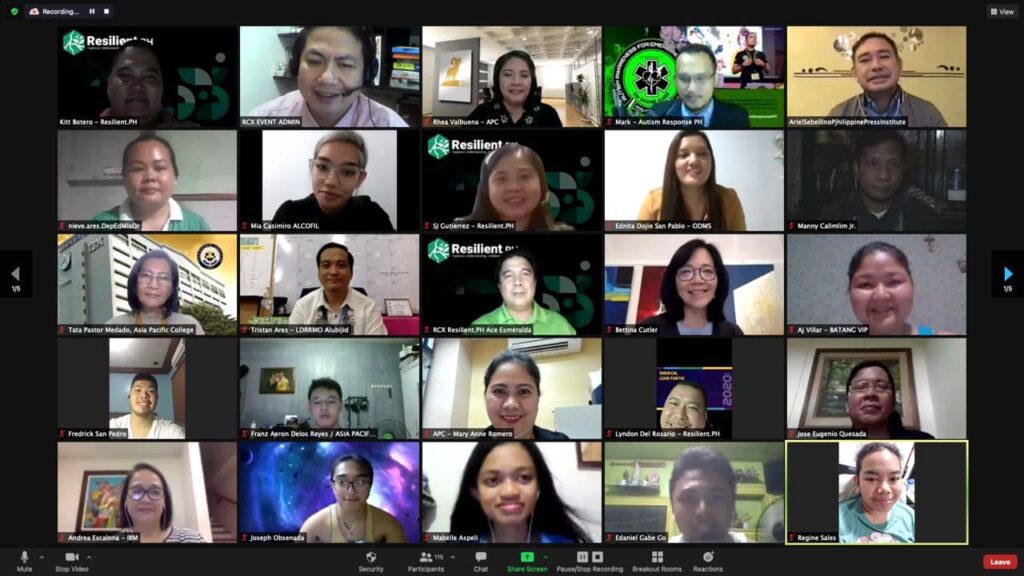 The two-hour event saw representatives from Autism Response PH, the Disaster Resilience Rating for Hotels (DRRH) Project, the Green Thumbs Up Project (TGTUP), Alcofil, ODMS Enterprise, Batang VIP, JCI Cebu Sinulog, the Municipality of Alubijid, Misamis Oriental, Alubijid Central School and the Philippine Press Institute (PPI) share their respective organization's disaster management challenges and the web-based solution they require to address these.
The student groups will consider the challenges presented by the organizations and decide which among the ten they would like to work with. Once the selection has been made, the students will collaborate with the representative of their chosen organization in developing the solutions to the identified challenges. All the solutions will be presented during the final pitch day sometime in March.
Also guiding the students are coaches from Code Door, IBM's front end web development course content partner, who will be helping the groups develop Front End Development Solutions for their chosen client.